Dear Friend,
Home is more than four walls. It is your own slice of heaven, full of happy and poignant memories. It is the nest which you return to tired from work, knowing that here you will find your strength and happiness. Home is, indeed, the harbinger of love, hope and dreams.
In today's busy world, we often forget to admire our surroundings. To witness a tree burst into flowers during springtime, a bird singing in melody, or a glimpse of the ephemeral beauty of the sun setting fire to the sky before the night descends, these are nature's wonderful creations.
Presenting Urvisha~The Condoville, where the earth is carved out to cradle you in its arms. To help you tread in nature's lap. To revel in the luxury of comfort with a plethora of offerings solely for the well-being of yours and the loved ones.
Welcome to Urvisha
~The Condoville
.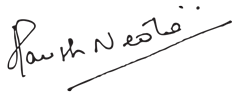 Harshavardhan Neotia
Chairman, Ambuja Neotia